Sprache: [
Deutsch
] [
Englisch
]
Hey visitor, welcome to my text homepage! I'm not a graphic designer, so this page is "very" simple :-)
Jobwise i'm software developer and computer repair service operator of an own company, with many years of experience and online merchant.
My services:
-
pc-service-loncar.de
Mobile computer repair service
-
linux-service.net
Installations-Serivce for linux
My Projects:
-
stne.net
SpaceTrek: The New Empire, a browser game
-
touchtyper.net
A touch typing learning application
-
colorizer.org
A color picker with lots of conversions
Co-developer of:
-
sharpkit.net
Open Source C# to Javascript compiler (
Project at Github
)
Developing the control software for a swiss company, that produces chess computers.
Previously i was a core developer of the idea management software "Trevios" of enobis Ideenmanagement GmbH, wich is now used by big companies like Bosch, Ratiohparm, Wieland:
trevios.com
Trevios Ideenmanagement
My skills:
- C#, VB.NET, HTML, Javascript, SQL
- Basic knowledge in Delphi(Object Pascal), PHP, C++, Java
- Scaleable, object orientated software archtiecture
- Developing of complex Rich Internet Applications (RIA)
- Repairing of computers / fixing of computer problems
- Proficient in English
My online profiles:
-
Google+
-
Facebook
-
GitHub
My blog:
english
german
Do I have also hobbies? Yes, of course! I practise the martial art
Wing Tsun
and I also love to make music (piano, guitar, flute[various])
---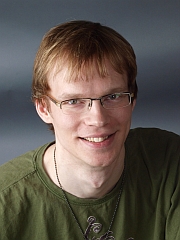 Date of Foto: May 2011
Sebastian Loncar
, born in 1983, in a relation
"Changes scare us most for the reason that they throw us out of our usual comfort zone."
- A quote from
Helga Schäferling
, German Pedagogue.
---
Contact and Imprint:
Storchenweg 28
46499 Hamminkeln
Germany
eMail: sebastian . loncar [at] gmail . com